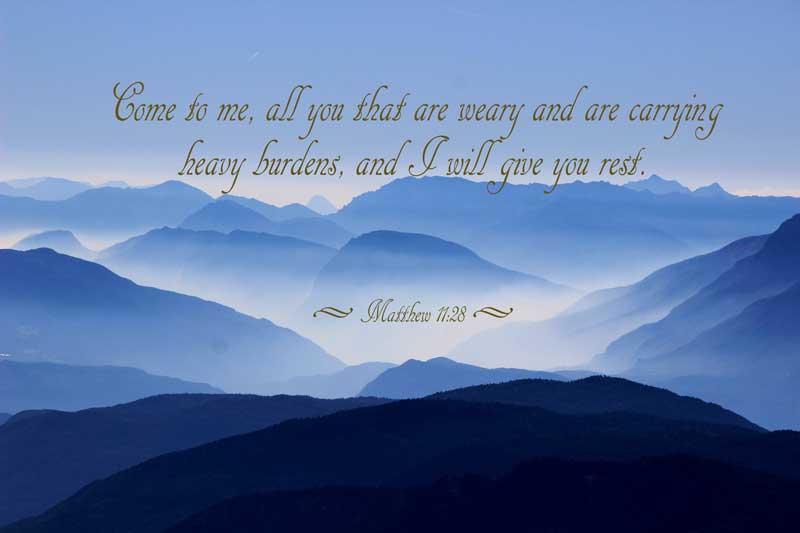 Come to me, all you that are weary and are carrying heavy burdens, and I will give you rest.[1]
Jesus and the book of Hebrews both talk about letting go of things in our life that are holding us down, weighing us down. Possibly, they're talking about the extra pounds or extra items in our home, but not likely. We know that Jesus came because of the lost souls of His children and that's what He is wanting to reach to, our souls.
What are the soul weights that keep us down and make us unable to run the race God made us for? What are the burdens that we refuse to give to the Lord in order to rest? How does this impact our daily lives and our walk with the Lord?
Things in Our Heart that Keep Us from Resting
Our view of ourselves
If we don't see ourselves as God sees us, we run the risk of trying to "fix" ourselves and missing many opportunities to rest. Find a list of things that resonates with your heart right now and keep it close. Here's a list to start with:
I am God's workmanship, created in Christ unto good works (Ephesians 2:10).
I am a new creature in Christ (2 Corinthians 5:17).
I am a spirit being alive to God (Romans 6:11,1 Thessalonians 5:23).
I am a believer, and the light of the Gospel shines in my mind (2 Corinthians 4:4).
I am a doer of the Word and blessed in my actions (James 1:22,25).
I am a joint-heir with Christ (Romans 8:17).
I am more than a conqueror through Him Who loves me (Romans 8:37).
I am an overcomer by the blood of the Lamb and the word of my testimony (Revelation 12:11).
I am a partaker of His divine nature (2 Peter 1:3-4).
I am an ambassador for Christ (2 Corinthians 5:20).
I am part of a chosen generation, a royal priesthood, a holy nation, a purchased people (1 Peter 2:9).
I am the righteousness of God in Jesus Christ (2 Corinthians 5:21).
I am the temple of the Holy Spirit; I am not my own (1 Corinthians 6:19).
I am the light of the world (Matthew 5:14).[2]
Serving outside our calling
There are so many needs in the world. Heart-wrenching stories and troubles around every corner. As the body of Christ, we are made to be the hands and feet of the world. As individuals, we are called to good works that the Lord made for us to do.
Sometimes it's easy to forget that we have a specific calling and we try to fulfilling the calling of the whole body. Individually, we are not supposed to try to be the whole body to all people all the time. We are to be fitted together with the other believers who have their own specific gifts and talents in order to become the light the world needs to see.
We can stop ourselves from find rest when we refuse to listen to the limitations the Lord has blessed us with and we do too much.
Guilt
Guilt often dovetails with the first point, not seeing yourself as God sees you. It can be more than just that, however, as it can come from so many different places. Others can place guilt on us, we can place guilt on ourselves, marketing ads or even random social media conversations can spark it in us.
Guilt makes us unable to rest even when we're not doing anything. Our minds race and our emotions churn as we think about all the "should" or "shouldn't haves" we can possibly imagine.
Sometimes, the guilt is validly earned. Sometimes, we can only eliminate it by repenting of the Lord and repairing relationships with others. However, most of the time we don't simply leave it at that. If we can't do what we think we need to do right this very minute (even if it's the middle of the night), we stew and worry. Often times, even after we've worked through it, we still stew and worry.
Rest requires peace and guilt destroys peace. We must find forgiveness and healing in the Lord from the guilt that steals our rest.
Unhealed Areas in our Heart
God wants whole and healthy children. Colossians says, "So you also are complete through your union with Christ, who is the head over every ruler and authority.[3]" He is the boss and He makes us whole. If there are patches in our heart that we haven't submitted over to him to fill in with His grace and mercy, we run the risk of that darkness will steal our rest. Many times, unhealed areas spin into ideas that affect our view of ourselves and we're back to the first one on this list, although that doesn't happen every time.
Unhealed areas are things that we avoid. It becomes areas that the devil can poke at and jeer at and keep us down with. We often compensate for hurt in our hearts in many various ways, from chocolate to criticism of others. Deep peaceful rest is more quickly able to be reached when we have silence from the hurting voices of our past.
Ways to Begin to Rest
If rest isn't a part of our daily routine, it can feel strange to try to find it. There are ways we can practice resting and find more of God's peace in our hearts.
Be Still
Being still is a powerful way to find rest. We often don't realize how much chaos is in our hearts and minds until our bodies slow down. When there's no distractions on the outside, there's more noise on the inside. Being still in and of itself may not feel particularly restful, depending on your personality. However, being still is a vital step to finding peace and rest because it's the step that brings us into the peace realm. Think of it like the exit door from daily life. You can't get out of the noise if you don't know how to leave the room. Being still is choosing to step away and find peace.
Listen
Often we spend all the time in the Lord's presence talking to Him. Stillness often means listening more than talking. When we listen, we can hear the sweet songs He sings to us and the beauty of His words. Listening and being still are tightly woven together as it can be difficult to one without the other.
Get away from the routine
Matthew 14:22-23 (14:19 IV) tells us that Jesus left the disciples in order to be alone. It was right after the feeding of the 4,000 and right before He walked on water. Jesus often took time to pray out from His ministry and we must do the same thing. It doesn't have to be often, in fact, it probably should be all that often, but we need to do it. We need time away from the routine to focus on God and fill up on His presence. When we see and do the same things day in and day out, we fall into ruts that block our minds from hearing His voice. A fresh perspective often allows us to hear a fresh word.
Spend time in the Lord's presense (Act 3:19-20)
Being still is good, but it's only half the equation if we're not being filled by the presence of God as we do it. The refreshing breath of spiritual air that comes into our hearts in His presence is better than any other form of rest.
We know God is with us and we know He's near to us if we seek Him, but just knowing that sometimes isn't enough to feel Him. We must choose to believe He's near us no matter how we feel in the moment and actively ask Him to be more sensitive to Him. He may speak through your emotions or the scriptures you're reading or through a song. In any case, the more consistent you become in seeking Him, more familiar you become with His presence and the quicker you can feel Him in the future.
Turn your focus to praying for others
One of the things that can block us from resting in the Lord is simple selfishness. We don't stop thinking about ourselves and our circumstances long enough to breathe let along think of someone else. Praying for other people when we're struggling to get our mind off our troubles can be very helpful in stopping the spinning in our head and get our thoughts turned to the Lord.
There's nothing wrong with bring our requests to the Lord, multiple times even. However, when our circumstances have become blinders to seeing outside ourselves, we can sometimes pray for others to help break the cycle.
Letting Jesus Restore Us
The Lord is my shepherd, I shall not want. He makes me lie down in green pastures; he leads me beside still waters; he restores my soul.[4]
Let us allow the Lord to give us rest. Don't allow the burdens of the past and fear of the future cloud your vision and clutter your mind. It will only steal the rest that God has in mind for you. The rest you need to live fully and completely, serving Him and His children.
References
[1] The Holy Bible: New Revised Standard Version. (1989). (Mt 11:28). Nashville: Thomas Nelson Publishers.
[2] Meyer, Joyce. "Knowing Who I Am in Christ." Web. 16 Aug. 2015. <http://www.joycemeyer.org/articles/ea.aspx?article=knowing_who_i_am_in_christ>.
[3] Tyndale House Publishers. (2013). Holy Bible: New Living Translation (Col 2:10). Carol Stream, IL: Tyndale House Publishers.
[4] The Holy Bible: New Revised Standard Version. (1989). (Ps 23:1–3). Nashville: Thomas Nelson Publishers.