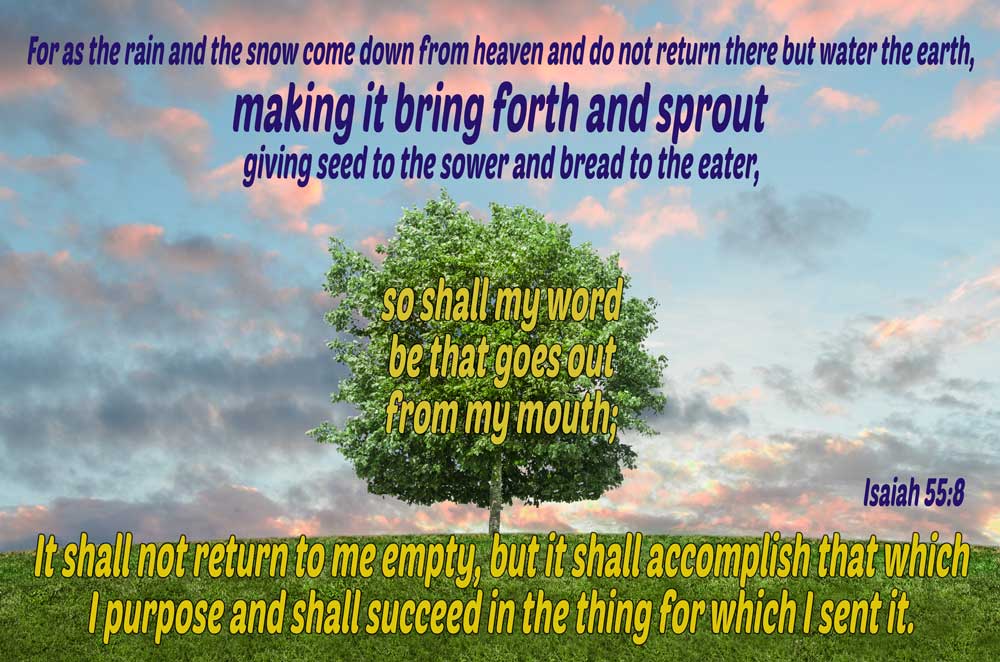 Psalm 55 is a beautiful celebration of who God is, and by extension, who we aren't. This passage contains the famous verse, "For my thoughts are not your thoughts, neither are your ways my ways, declares the Lord." (v. 8). That is only one gem in a chapter of beauty.
My Favorites
1 Come, everyone who thirsts, come to the waters; and he who has no money, come, buy and eat! Come, buy wine and milk without money and without price.
God is accessible to everyone, no matter what. God is not over an empire of have's while all the have-not's cry at the locked door. That's not how His kingdom works. All are able to come and eat at the feast of our Lord God. He invites everyone and provides for them because of His love and His gracious plan.
2 Why do you spend your money for that which is not bread, and your labor for that which does not satisfy? Listen diligently to me, and eat what is good, and delight yourselves in rich food.
So much in this world promises to take all your problems away. From our health to our homes to our money to our time, we are shouted at by so many that they've solved all the problems. It's not true, though. There is only one thing that satisfies and one thing alone: a relationship with God the Most High God.
10 For as the rain and the snow come down from heaven and do not return there but water the earth, making it bring forth and sprout, giving seed to the sower and bread to the eater, 11 so shall my word be that goes out from my mouth; it shall not return to me empty, but it shall accomplish that which I purpose, and shall succeed in the thing for which I sent it.
This promise is speaking to where I am right now and some of the things that I've been struggling with. Sometimes I feel like I'm letting God down by not accomplishing great things. But this remind me that, one, God's plans can't be foiled by me or anyone else. I don't know how it works, but God will accomplish His goals and my disobedience (although it has consequences) can't stop it from being accomplished. Two, this passage, combined with Ephesians 2:10 that says God prepared good works for me to walk in, says to me that I have a purpose and I can be a part of God's great plan. My job is to do what God created me to do, to be the person He created me to be, and to let the rest be in His hands.
While these three are favorites for me, the rest of this chapter is awesome. Definitely read this section and spend time praising God!