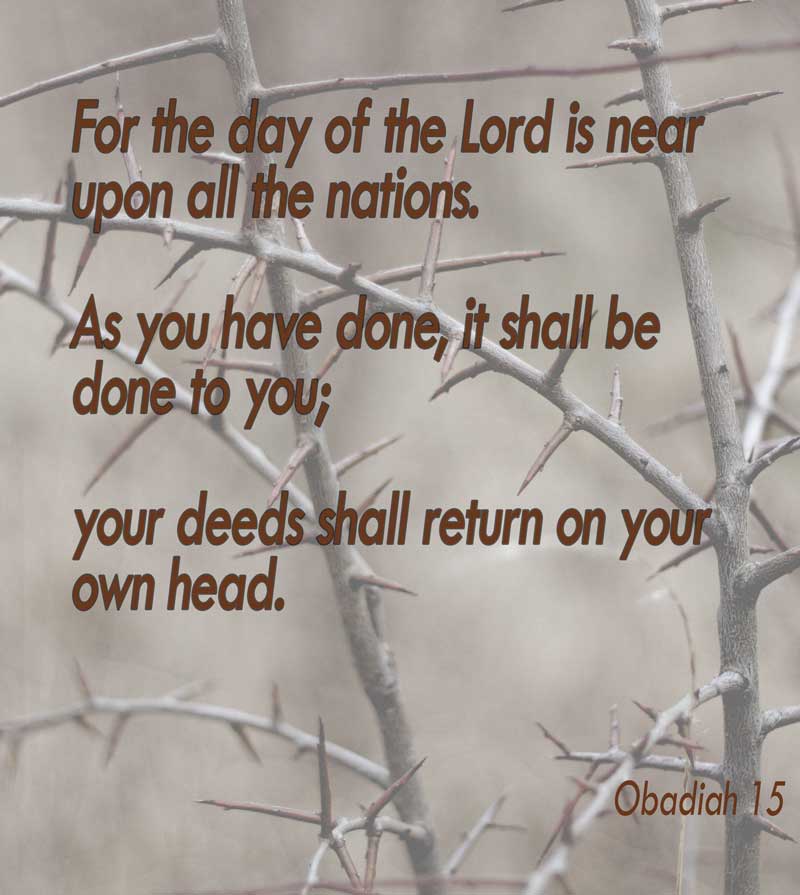 It is so easy when we live in comfort and ease to forget to feel bad when others suffer, or to allow that compassion to change us. When we see suffering, we should open our hearts to them and allow the Spirit of the Lord to move in us.
The book of Obadiah in the Old Testament is written against people whose arrogance damaged their compassion toward the house of Jacob. Most likely the book was written after the fall of Jerusalem to the Babylonians. It was aimed at the Edomites who not only gloated over Israel's troubles, but found refugee Israelites and turned them over to Babylon.
Obadiah is condemning Edom for their sins and promising their arrogance will be turned back on their own heads. The house of Jacob, as God's chosen people shall be restored even as Edom is lost[1].
We can learn several things from this passage about our outlook in the world and others' suffering.
Don't trust our current circumstances to protect us (v. 3).
God is the one who protects and provides. We are safe as long as He trust Him and walk humbly before Him. When we forget that and start to think that our technology or our intelligence is what is keeping us safe, we are already losing.
Don't join in on oppression or celebrate over their demise (v. 10, 12).
Others may be suffering, but do nothing to add additional burden on them. Don't even celebrate over their troubles. They are suffering and our hearts should be moved to compassion, acknowledging the pain they are being put through.
Remember that God is sovereign and He has a plan (v. 21).
Edom, though it seemed at the time to have a brighter future than the demolished Jerusalem, was doomed to destruction by the Word of the Lord. The house of Jacob, though the promise may have felt empty at the moment, was promised a kingdom restored and ruled over by the Lord.
The suffering today may seem overwhelming at times. But, if we keep the knowledge of the Lord near to our hearts, we have hope and we can operate in compassion for others who are suffering.
References
[1] Notes from the introduction to Obadiah in the ESV version, published by Crossway, a publishing ministry of Good News Publishers.