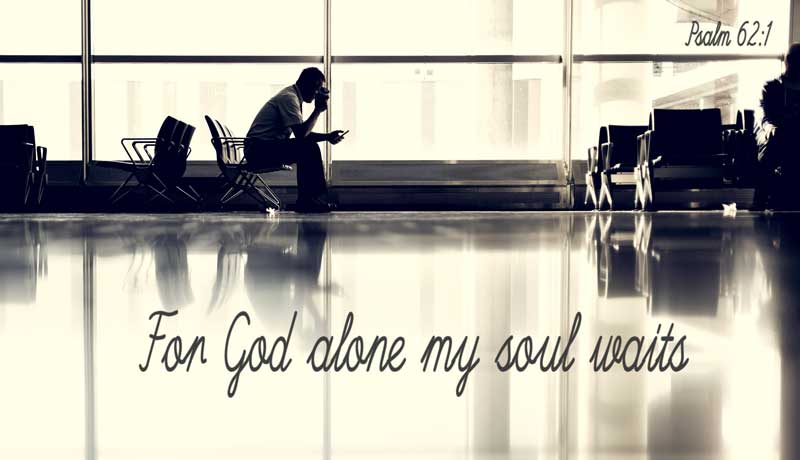 Psalm 62:1-2 For God alone my soul waits in silence; from him comes my salvation. He alone is my rock and my salvation, my fortress; I shall not be greatly shaken.
For God Alone
I imagine a busy blustering world and a person at the center, calm and still. I think of a busy subway station with people moving about, sometimes even running, with a person at the heart of it not moving.
Putting that image in my heart, I see myself being brushed past by voices, hearing them shout at me at how I'll miss out or what I should have done. I feel pulled at by desires and anxieties, and they're trying to get me to fight them off and at the same time let them stay. My own voice fills my head with troubled thoughts and tension; my mind a chaotic mess of dreams and regrets. Knowing Who I wait for allows me to see past the distraction and deceit of all the others, waiting only for Him.
And at the center there's me, standing firmly and not letting any of it grab a hold. None of the chaos, none of the desires, none of the anxiety. I'm waiting. Waiting for the Lord alone and none other. I know He will come; He's promised and He's proven Himself time and again. Nothing interested me, nothing distracts me. I stand and wait and see all the other things fade away in their time. Knowing Who I wait for keeps me grounded and peaceful, waiting only for Him.
God Is My Fortress
There are things I want to lean on, and there are people I want to save me. There are goals to accomplish and sights to see. People promise, but the promises are limpid and fake. They are not trying to be fake, but they are because they are mortal and limited. They will not always fail, of course, but even success is deceitful. Nothing will save me; nothing will give me hope. Everything fades and leaves. There are walls that feel secure and ideas that seem filled with promise. But the secure walls eventually fall down and the ideas, even if they deliver, will only last a season.
All the other things fade away, but not God. He is there always and forever. God is my fortress: the place of safety in times of trouble. God is my salvation: the one who keeps my eternal life in His hands. God is my rock: the anchor and help, the foundation for building.
I Shall Not Be Greatly Shaken
Because I know this, I will not be moved by shifting emotions. I will not let others influence me away from the truth of God. I will find out who God made to be. I will stand by the promises He makes because of who He is. I don't ever think for a moment that I deserve any of this; I trust that He will always provide because of who He is, not who I am.
I don't fear the rising tide of fear and lies. I don't listen to the fear-mongers the conspiracies of war and deceit. I don't believe anything contradicting the Word of the Lord. I will not be moved. I will not be shaken.
God is my all.